Exploding Ball Fire Extinguisher
$54.95 CAD

$54.95 CAD

Save

$54.95 CAD
---
---
PROTECT YOUR FAMILY FROM DISASTER WITH THESE EXPLODING FIRE-BALLS!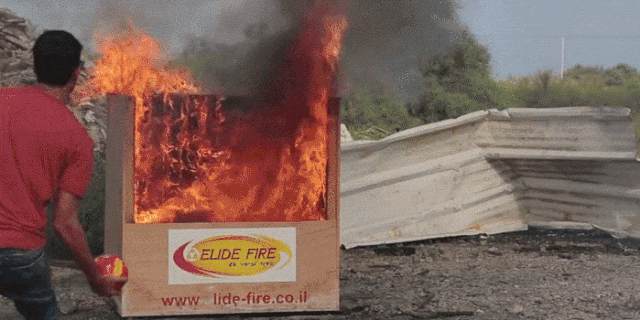 Regular fire extinguishers are so boring now that we've found The Ultimate Exploding Ball Fire Extinguisher!
Toss one of these balls directly into the fire and quickly back away. Seconds after touching a flame the ball will explode with a radius ranging between 86 to 107 square feet, releasing a non-toxic powder designed to extinguish even the most difficult fires, INSTANTLY!
You may also mount these exploding fire extinguishers in strategic locations in your home or business by using the included mounting bracket and screws. You can easily attach them to walls, ceilings, desks, etc. 
Currently there are 0.5kg Exploding Fire Ball Extinguishers available, however we may be able to obtain a larger version if we have enough interest in it. If you would like a larger version of this product, please contact us and let us know - we will see what we can do for you!
Usable for Class A, B and C Fires Home or Business
The Ultimate Exploding Ball Fire Extinguisher is suitable for use on normal combustibles like wood, paper, and flammable liquids (Class A, B and C) it's the ideal fire safety product for your kitchen, garage, car, or boat, when grilling or camping, and ideal for restaurants, offices, auto shops, and manufacturing facilities too.
Eco Friendly
Environmentally friendly, non-toxic and safe around people and pets, made with SGS approved ABC Class Dry Powder. the Fire Extinguisher Ball is an affordable fire extinguishing solution that is user-friendly, service and maintenance free for 5 years.
How It Works
The Fire Extinguisher Ball works in two different ways:
1. If you happen to be near the fire when it starts, no need to get close to the fire just toss or roll the Fire Extinguisher Ball into /onto the fire. When the activation strip is exposed to flames it will actuate within 3-10 seconds and disperse a non-toxic chemical to extinguish the fire in an area with a radius ranging between 86 to 107 square feet.
2. Or the Fire Extinguisher Ball can be placed in a fire prone area and using the specially-designed stand that comes with each unit the Fire Extinguisher Ball will self-detonate when it comes into contact with fire even if no one is around; you can't do that with a fire extinguisher. 
Order multiple units for even bigger savings!
All payments are securely converted into CAD during checkout.